Anandi Arpit A - Torane Stop, Bhatwadi, Vengurla
Site Address -
Torane Stop, Bhatwadi, Vengurla.
Specifications of
Anandi Arpit
Structure – R.C.C. Framework of superior quality.
Walls – External walls of 9" thick Laterite stones/ Concrete blocks/ bricks masonry and internal walls will be of 6" Laterite stone or Concrete blocks or 4" bricks masonry.
Plaster – Sand-faced double coat cement plaster for external side.
Single coat cement plaster with putty finish for internal side.
Door Frame - Main door's frame of Teak wood and other Door frames of jungle wood or cement frame. Flush door with outside laminated for Main door and other flush doors oil painted.  W.C. and Bathroom Door frames in Green Marble / Granite and bakelite shutter with Aluminum frame.
Windows - All windows seal in Green Marble / Granite. Anodised aluminum sliding for Hall, Bedroom & Kitchen's windows and luvars for W.C. and Bathroom's window with m. s. grills from outside.
Flooring - Vitrified Tiles for all flooring rooms and balcony in 600 mm x 600 mm with 2.5" skirting.
Bathroom / W.C. - Anti-skid tiles for flooring with glazed tiles dado up to 7 ft. hight for bathroom. Glazed tiles flooring with glazed tiles dado up to 7 ft. hight and white or ivory colour Indian type Orissa pan for W.C.
Plumbing - Concealed plumbing (easy fit pipe) with Water Mixer, Shower and Only water connection for Geyser in bathroom and single connection for W.C., Basin and Kitchen.
Kitchen Platform - 7 or 8 ft. straight length including Stainless Steel sink X 24" width (as per the availability of kitchen space) of Granite and 3 ft. glazed tiles dado from kitchen platform.
Electrification - Adequate electrical point of open casing capping light fitting with concealed switch board.
Painting - Distemper to internal walls and Exterior Emulsion colour for external walls.
Site
Plan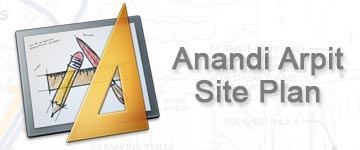 Construction
Progress
Area Statement
Building A
Ground Floor
| Flat No. | Type | Area |
| --- | --- | --- |
| A-101 | 2 - BHK | 876 Sq. Ft. |
| A-102 | 1 - RK | 460 Sq. Ft. |
| A-103 | 2 - BHK | 817 Sq. Ft. |
| A-104 | 1 - RK | 429 Sq. Ft. |
| B-101 | 1 - BHK | 602 Sq. Ft. |
| B-102 | 1 - BHK | 593 Sq. Ft. |
| C-101 | 1 - BHK | 641 Sq. Ft. |
| C-102 | 1 - BHK | 597 Sq. Ft. |
| C-103 | 1 - BHK | 614 Sq. Ft. |
| C-104 | 1 - RK | 384 Sq. Ft. |
| D-101 | 1 - BHK | 640 Sq. Ft. |
| D-102 | 2 - BHK | 814 Sq. Ft. |
| D-103 | 1 - BHK | 647 Sq. Ft. |
First Floor
| Flat No. | Type | Area |
| --- | --- | --- |
| A-201 | 2 - BHK | 876 Sq. Ft. |
| A-202 | 1 - RK | 460 Sq. Ft. |
| A-203 | 2 - BHK | 817 Sq. Ft. |
| A-204 | 1 - RK | 429 Sq. Ft. |
| B-201 | 1 - BHK | 602 Sq. Ft. |
| B-202 | 1 - BHK | 593 Sq. Ft. |
| C-201 | 1 - BHK | 641 Sq. Ft. |
| C-202 | 1 - BHK | 597 Sq. Ft. |
| C-203 | 1 - BHK | 614 Sq. Ft. |
| C-204 |   1 - RK | 384 Sq. Ft. |
| D-201 | 1 - BHK | 640 Sq. Ft. |
| D-202 | 2 - BHK | 814 Sq. Ft. |
| D-203 | 1 - BHK | 647 Sq. Ft. |
Second Floor
| Flat No. | Type | Area |
| --- | --- | --- |
| A-301 | 2 - BHK | 876 Sq. Ft. |
| A-302 | 1 - RK | 460 Sq. Ft. |
| A-303 | 2 - BHK | 817 Sq. Ft. |
| A-304 | 1 - RK | 429 Sq. Ft. |
| B-301 | 1 - BHK | 602 Sq. Ft. |
| B-302 | 1 - BHK | 593 Sq. Ft. |
| C-301 | 1 - BHK | 641 Sq. Ft. |
| C-302 | 1 - BHK | 597 Sq. Ft. |
| C-303 | 1 - BHK | 614 Sq. Ft. |
| C-304 | 1 - RK | 384 Sq. Ft. |
| D-301 | 1 - BHK | 640 Sq. Ft. |
| D-302 | 2 - BHK | 814 Sq. Ft. |
| D-303 | 1 - BHK | 647 Sq. Ft. |
Third Floor
| Flat No. | Type | Area |
| --- | --- | --- |
| A-401 | 2 - BHK | 876 Sq. Ft. |
| A-402 | 1 - RK | 460 Sq. Ft. |
| A-403 | 2 - BHK | 817 Sq. Ft. |
| A-404 | 1 - RK | 429 Sq. Ft. |
| B-401 | 1 - BHK | 602 Sq. Ft. |
| B-402 | 1 - BHK | 593 Sq. Ft. |
| C-401 | 1 - BHK | 641 Sq. Ft. |
| C-402 | 1 - BHK | 597 Sq. Ft. |
| C-403 | 1 - BHK | 614 Sq. Ft. |
| C-404 | 1 - RK | 384 Sq. Ft. |
| D-401 | 1 - BHK | 640 Sq. Ft. |
| D-402 | 2 - BHK | 814 Sq. Ft. |
| D-403 | 1 - BHK | 647 Sq. Ft. |